Bifold Doors' Material
Bifold doors are among the most accommodating types of doors that save space and are suitable for confined places. These are the most versatile doors, and their features enhance with the material used to manufacture them.
Usually, we have three types of materials available for bi-fold doors: Aluminium, PVC, and timber. Each one of them possesses different qualities. You have to choose one kind of material based on many factors, such as strength, maintenance, performance, affordability, and aesthetics.
Onitek manufactures bifold doors with Aluminium. So, here we will discuss why aluminium material is better for crafting a bifolding door?
Reasons Why Aluminium Serves As The Best Material
Durability And Reliability
Whenever we purchase home products, we wish them to last long and function better than any other product. After all, we spend our money on these products and expect some durability in return. Aluminium bifold doors are the most affordable yet durable than timber or PVC. They can withstand harsh treatment and do not require frequent repairing. That is how they save your budget and hold true to their value.
Easy To Maintain
One of the causes for the popularity of the bi-folding doors with aluminium frames is that they are easy to maintain. Any cleansing product or washing solution can help you clean aluminium material and keep the surface shiny and clear. However, you cannot do the same with PVC or timber material for more extended periods.
Thermal Efficiency
Another factor that makes Aluminium the best material is its energy or thermal efficiency. Aluminium remains durable even after it is painted, and it has the natural tendency to conduct heat. So, it performs better than any other material in terms of thermal efficiency.
Timber-Like Features
Many people prefer timber and want to see its doors or windows in their house. It might come as a wonder for such homeowners that aluminium designs are also available in timber-like features. You will find many Aluminium bifolding doors that share timber frames' aesthetic value and look the same as timber frames. So, you can satisfy your wish for timber with aluminium material as well; it shows the versatility of Aluminium.
Complements Windows
Aluminium is not available in various styles, but it also complements many other designs and materials. Even if your home features windows made of timber or PVC material, you can accompany them with Aluminium bi-folding doors. This will give a stylish look and modern touch to your home's interior. So, you do not need to change your windows if you plan to renovate your doors with aluminium material.
Offers Better Garden Views
Bifolding doors offer more space to the people with an ability to have a clearer view of gardens. Although any door can help you see the outdoors and enjoy the weather, Aluminium wins because of its durability, light-weightiness, and strength. In the future, these features save the aesthetic appeal of the home interior as well as provide security and privacy. You will discover a variety of designs and patterns in bi-fold doors manufactured with Aluminium.
These are the reasons that distinguish Aluminium as the ideal material for your bifold doorframes. Let's check out our i Bi-fold collection below.
N-Free FRAME DESIGN
The superior creative door design
N-PRO FRAME DESIGN
Built in elegant for an urban life style
N-PRO C FRAME DESIGN
Most ideal with the brilliant design
E-PRO A FRAME DESIGN
Unforgettable feeling, consisting of quality and pure design

HANDLE ALLOWING VENTILATION
2 IN 1 Advance Handle with Louvred Design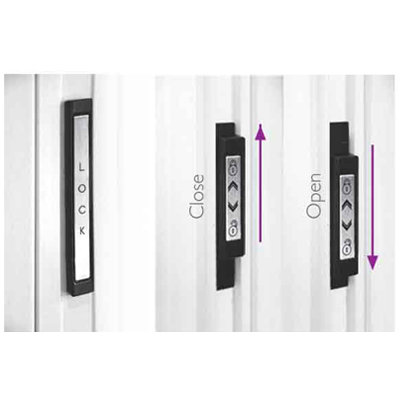 No more plastic lockset
Single lock available
Multifunctional can hanging clothes, towel and etc.
Owin® create interesting solutions for an instants change of scenery. There are basically to prime reasons why people use frosted glass sticker, privacy and safety.
The Ofiano® Glass is available in clear, privacy opaque or colored glass designs with either raised panel or louvered bottom.
The Ofiano® Glass is available in clear, privacy opaque or colored glass designs with either raised panel or louvered bottom.
The textured warmth with the Grain wood series. These tones and grains are truly mesmerizing and bring more than a hint of sophistication to any space.
Oxitro® Aluminium Composite Panel is the Polyester-Coated Al-Plastic and Fluorocarbon Resin Coated Al-Plastic panel based on the polyethylene material.